Red River Ranch Angus Beef. It's all about tenderness.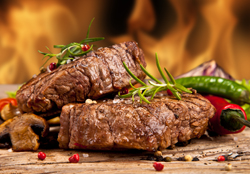 Look no further than your local United for premium Red River Ranch Angus steaks cut in store by an expert meatcutter. Red River Ranch brand is the beef Oklahoma & Wichita customers deserve. Ask your United butcher for the cut that's right for your special occasion.

When you're looking for premium dry-aged beef for a special occasion, a roast for Sunday afternoon, or burgers to throw on the grill, look no further than your local United Store.

Our premium, Genuinely Tender™ Red River Ranch Angus Beef is guaranteed to satisfy your beef cravings. Red River Ranch Angus beef is hand-selected grain-fed cattle from right here in the heartland. And that quality extends from the ranch all the way to your United store. From the auction, where we hand-pick only the finest animals, to processing, to our local store, United is committed to the finest quality beef - the beef Oklahoma & Wichita customers deserve.



Select cuts of Red River Ranch Angus Beef are now Certified Tender by the USDA!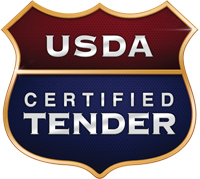 Questions about Red River Ranch Beef
What is Angus Beef? The Black Angus breed is recognized by beef councils and Oklahoma agriculture experts to consistently produce the most tender, most flavorful cuts of meat. That's why when we're hand-picking animals at auction, we buy only the Black Angus breed.
How can I know I'm buying tender beef? If you're buying beef at a nationwide chain, you're rolling the dice. After we've bought the best meat, the largest chains buy the rest. You might get a good cut at one of these mega-stores, but the cards are stacked against you. Unlike United Stores, where we cut meat in your local Oklahoma or Wichita, Kansas store, their meat is cut and packaged in large central processing facilities. There is no butcher on staff to answer your questions, and they can't give you a special cut. What you see is what you get – and what you get usually isn't very good.
Why should I buy my beef at United? Your local United has an expert butcher on staff. He or she can tell you exactly what cut of meat to buy. In many stores, we can dry-age your beef to your liking. We can wrap it to take home and grill right away, or double wrap it for the freezer. Want to make something from a cut you don't see in the store? No problem! We'll cut or grind your meat to your specification.
I've bought the wrong cut before and wasn't happy with the result. How do I find the right cut? We've got a lot of great information about cuts right here on the United site and on the Red River Ranch beef site. Take a look at our resources. But your best bet is to ask your United butcher. We love to talk to customers about beef every day, and we love answering questions. Just tell us what you want to eat, and we'll tell you what to buy and how to prepare it.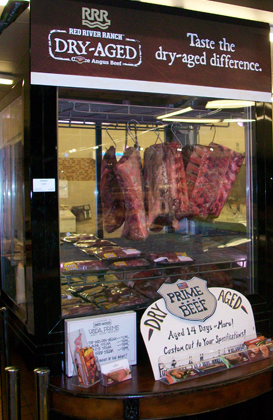 Dry Aged Beef
The Dry-Aged Beef Oklahoma Deserves
United offers a full selection of dry-aged beef; Oklahoma shoppers know good beef and they know United offers just that. Our selection of dry-aged beef ages for at least 14 days. We are sure you will find our dry-aged beef to be tender, juicy, and aged to perfection. We are confident you will be able to taste the difference of quality.
Over the years, wet aging has become the commonly accepted standard for aging beef, primarily because it allows beef to reach ideal tenderness levels fast and preserves volume as the beef ages inside its packaging.
Until the 1960's, the beef you'd get from your local butcher was dry-aged beef. Dry aging is a slower aging process that removes the excess moisture and allows natural enzymes to break down, creating concentrated flavor and amazing tenderness. The beef is held just above freezing in a humidity controlled cabinet, right in our store.
We've rediscovered this lost art of aging and brought it to some of our United Stores in the form of Red River Ranch dry-aged choice angus beef.
You can see the difference for yourself by looking into the special dry-aged beefcase. Now taste the difference by trying Red River Ranch dry-aged beef for yourself today.
Discover the dry-aged beef Oklahoma deserves. Taste how great Angus beef gets even better with age.
Dry-aged beef available at the participating United Stores